Accidents happen. Annual services come around again and again. Brake pads need changing. Despite how indestructible your Mitsubishi feels, every vehicle eventually needs a tune up. We want to be the service center you choose.
When you schedule a service appointment with our coordinators you'll get the personalize care you can expect from Valley Mitsubishi.  Whether we're on the phone or deep in your car's engine, we're looking out for you and your vehicle.  Expect competitive prices, prompt appointments, and knowledge of your Mitsubishi that will far surpass other service shops that don't live for the brand.
Schedule your oil changes, timing belt replacements, lubricant top offs, tire rotations, spark plugs, cabin filters, clutch, battery, and wheel appointments with us for the peace of mind that comes with leaving your car with an expert.
Contact us now with your questions. We look forward to having a conversation about your Mitsubishi soon.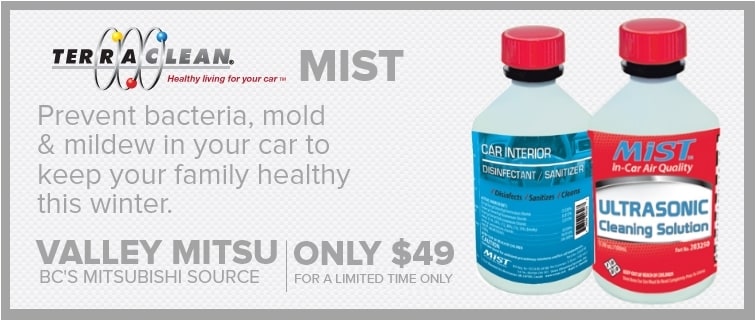 Modern HVAC systems trap more moisture than older systems. These systems are ideal habitats for the growth of mold, mildew, bacteria and other micro-organisms. Spores from these micro-organisms are then regularly blown into the passenger cabin and colonize inside the in-car environment. 
FEATURES AND BENEFITS
Effectively treats mold, mildew and bacteria in the HVAC system and cabin of a vehicle.
Quick and effective way to keep your British Columbia car germ free this winter.
Only $49 plus taxes at Valley Mitsubishi.
Also contact us about keeping your entire engine clean
and your car running more efficiently with a TerraClean Engine Decarbonizer.
See what it can do for you below.