When the Okanagan Valley thinks about the essential parts they need and top quality accessories they want, we want them to think Valley Mitsubishi. 
Think Valley when you're looking for parts discounts, Swagman sport accessories and racks, all season tires, winter wheels, timing belts, brake repairs, rims and hubcaps, Mitsubishi accessories, oil filters, air filters, and TerraClean antibaterial products for your car. 
We're available to answer all of your Kelowna Mitsubishi questions online or at our Enterprise Way location.  With a designated parts team, we'll be ready to greet you when you step foot in the dealership or contact us now with your requests or concerns.  We look forward to having a conversation about your Mitsubishi soon.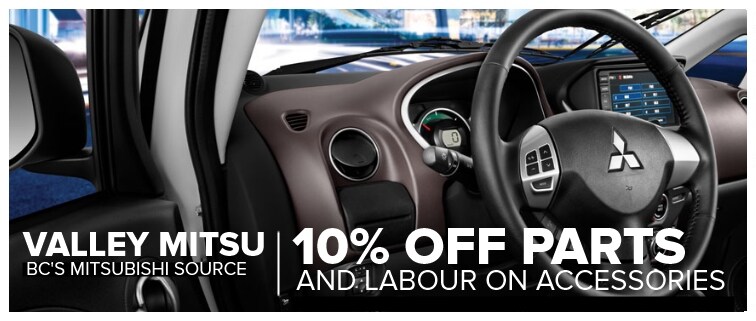 Our Kelowna parts team knows that the biggest joy for a Mitsubishi owner
other than driving is making your ride your own.
That's why we provide a wide selection of BC Mitsu accessories to meet your needs and help 
you outfit your ride for life with quality, warrantied accessories.
Present this coupon when you visit Valley Mitsubishi in Kelowna to receive 10% off of all 
parts & labour on accessories this month.
Make an Inquiry